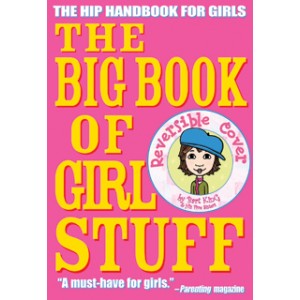 The Big Book of Girl Stuff
Price: 22.99 CAD
The Big Book of Girl Stuff
he Big Book of Girl Stuff shares everything a girl needs to know—from sleepovers to diaries to makeup to boys to shopping, and everything in between! It's the ultimate guide to unlocking the delightful mysteries of being a girl.
Dozens of girls, young women, teachers, and mothers collaborated on this book to make it the most comprehensive guide to being a girl that has ever existed! Perfect for pre-teen, 'tween, and teenage girls, The Big book of Girl Stuff shares inspiration, empowerment, and some seriously silly laughs just when girls need it the most!
It's filled with information, activities, quotes, and games, as well as lists for favorite books, movies, and music. Smart asides, fascinating facts, an enlightened outlook, and a uniquely feminine perspective make this a must have for every girl. Though it's written for girls from 9 to 14, it will certainly delight moms, aunts, and big sisters everywhere!
Find answers to a girl's most important questions:
Why are horses so cool?
How do I stop a boy from crying?
How do I fake a cell phone conversation?
How can I make the world a better place?
Which country considers pierced ears bad luck?
When is International Sea Monkey Day?
Table Of Contents:
Babysitting: Tricks and Tips!
Girl Power!
Boys!
Magic and Superstitions!
Friends, Cliques, Secrets, and Gossip!
Fun Things to Do!
Holidays!
Valentine's Day! (mini-feature)
Sports and Games!
Dance!
Lies, Mean Girls and Jerks!
Ick!
Nicknames, Words, Handwriting, and Doodles!
Slang! (mini-feature)
Dolls!
Etiquette!
Family!
Beauty!
Sleepovers and Slumber Parties!
Hair!
Humor!
Fashion!
How Important Are Looks? (mini-feature)
Food (and Dieting)!
The Mind, Emotions, and Dreams!
Practical Jokes!
Girl Secrets-No Boys Allowed!
Emergencies!
Pets!
Shopping and Advertising!
Wise Words from Wise Women!
Recommended Reading and Movies!
Bibliography