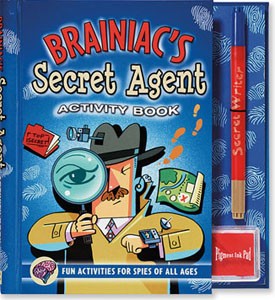 Braniac's Secret Agent Activity Book
Price: 12.99 CAD
Braniac's Secret Agent Activity Book
Have fun learning to be a secret agent! This bestselling Brainiac's Secret Agent Activity Book will enable kids to send secret messages with code rings, solve mysteries, get lost in mazes, fingerprint their friends, and learn about real-life spies of the past.
Young secret agents can also use the invisible ink pen (included) to write magic messages!
Includes an ink pad for taking fingerprints.
128 pages.
Ages 8 and up.
Concealed wire-o binding.
Sturdy hardcover book.
Hours of fun and educational, too!
Dimensions: 8.25" x 6.50" x .50"