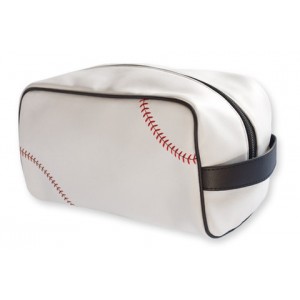 Toiletry Bag- Baseball
Price: 29.99 CAD
Toiletry Bag- Baseball
This amazing baseball toiletry bag is created from actual patented and copyrighted baseball material. The baseball material is durable, puncture resistant, and virtually spill proof with a moisture resistant inner lining! If you love baseball, use the only toiletry bag made from actual baseball material! Perfect for any age, guys or girls, in any environment. Pack it for camp, a trip, in the locker room or at home.
Features
Made from authentic baseball material
Quality construction, heavy duty zipper and handle for extra utility

Extra inner compartments/pockets to organize your personal items

Red baseball stitching
Dimensions: 10" x 5" x 4.5"